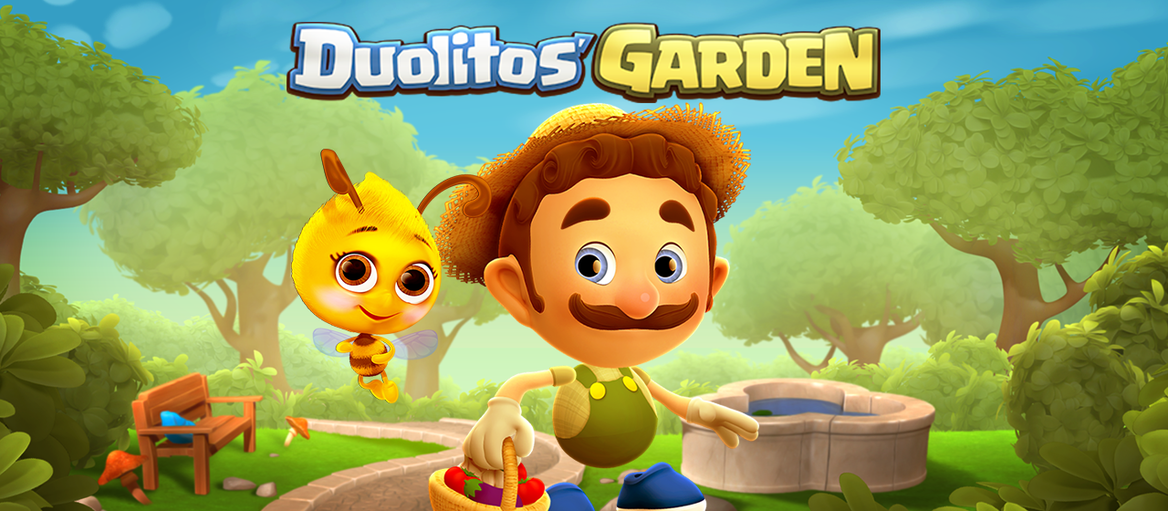 Duolitos Garden™
Time for the harvest!
Whether peas, corn on the cob or carrots. At Duolitos Garden, they are sure to bring you the very big harvest.
Collect six sunflowers and you start into the free spins. There, a total of 8 special scatters will help you win all the big prizes.
Play
Game description
Duolitos Garden is a 5-reel, 3-row video slot with scatters, eight special scatters, spreading WILD, the feature-buy function and 50 fixed paylines. These win from left to right. The top prize is 5x corn on the cob.
Pearl-Feature
Six collected sunflowers trigger the Pearl feature with 3 freespins. The game is then played on a total of six rows
A total of eight special scatters provide high winnings
The special scatter frog adds one to the rows
The Special Scatter Forester (turquoise) increases the number of freespins from 3 to 4, from 4 to 5, and so on
The Special Scatter Bee (purple) randomly adds additional wins once for up to 5 Pearls
The Special Scatter VIP Bee (purple) randomly adds additional wins every round for up to 5 Pearls
The special scatter gardener (blue) multiplies all already won pearls by x2
The special scatter farmer (red) collects all won pearls together once
The special scatter VIP Farmer (red) collects all the winning pearls every round
The Special Scatter Chest, once appeared, opens after 10 rounds. A MINOR, MAJOR, MAXI or MEGA jackpot can then be won when a chest is opened
Buy Feature
In the normal game, feature games can be purchased at any time. To do so, simply press the Buy Feature button. Confirm the entry with the green tick and the reels will start spinning and the Pearl feature with 3 freespins will begin with chances to win big
Winning strategy
Try to get into the free spins as quickly as possible in the normal game. Once there, high winnings await you thanks to the special scatters. The frog expands the rows and the VIP bee and the VIP farmer provide rich winnings.
FAQ
Are there Freespins?
Duolitos Garden also offers free spins. Six sunflowers start the Pearl feature with three free spins. The special scatters help you to get the really big wins.
Are there Big Wins?
This is definitely possible. Make sure that you get into the free spins as soon as possible. There the high winnings are waiting for you.
Play
Specification
Game name
Duolitos Garden
Payline type
left to right
Supported platforms
Mobile, Desktop
Recommended browsers
Chrome, Firefox, Edge, Explorer, Safari, Opera
Supported OS
Android, iOS, Linux, macOS, Windows
Languages
UZ, LT, EL, FI, NO, JA, PT, ES, UK, FR, RO, RU, PL, TR, SV, NL, DE, EN