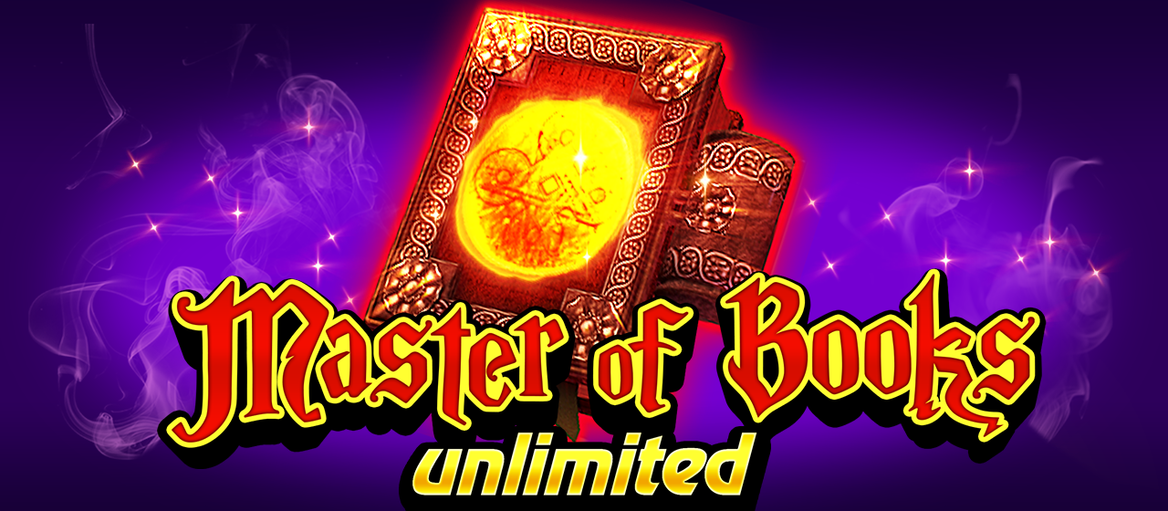 Master of Books Unlimited™
The most successful classic and feature with up to 9 more lucky symbols.
Magical moments are promised by the jolly owl, who knows how to elicit them from the wise wizard.
Three books and then it's off to the races - with the classic book game principle, winning fun is guaranteed.
Play
Game description
Master of Books Unlimited™ is a 5-reel 3-row video slot with Wilds, Scatters and Free Spins and 5 fixed paylines. Winning combinations pay from the left. 3 or more scatters start 10 free spins. A lucky symbol is selected at the beginning. Any symbol can be lucky except scatter. During the free spins, the lucky symbol spreads over the whole reel.
.
Each extension also selects another lucky symbol. Up to 9 lucky symbols can be awarded.
The main win is a bonus.
The top prize is a full-screen Wizard.
Books + Unlimited
3 or more scattered scatters start 10 free spins and the lucky symbol draw
Lucky symbols spread all over the reel during free spins
Scatter is also Wild
Each free spins extension (3 or more scatters) gives another 10 free spins and another lucky symbol draw
Each lucky symbol can then lead to a full screen.
Winning strategy
.
Try to get into the free spins as quickly as possible in the base game. You need 3 books to get into the books feature. Try to tap the wizard or another high symbol in the selection at the beginning of the feature. This symbol spreads across the reels.
First of all, in the free spins you should try to stay in as long as possible. You can do that with another 3 books. Then you get the chance to tap another high symbol in a new selection. You can then play through extensions with up to 9 lucky symbols, all of which spread out on the reels.
Each lucky symbol has a different value.
Each lucky symbol can then lead to a full screen.
FAQ
Are there free spins?
Master of Books Unlimited™ also offers free spins. 3 or more scatters trigger 10 free spins, where lots of exciting features await.
Are there Big Wins?
This is definitely possible. Make sure you get as good a free spin result as possible with high stakes.
Play
Specification
Game name
Master of Books Unlimited
Payline type
left to right
Specs
87.76%, 89.11%, 90.05%, 90.49%, 90.77%, 91.33%, 91.52%,
Supported platforms
Mobile, Desktop
Recommended browsers
Chrome, Firefox, Edge, Explorer, Safari, Opera
Supported OS
Android, iOS, Linux, macOS, Windows
Languages
UZ, LT, EL, FI, NO, JA, PT, ES, UK, FR, RO, RU, PL, TR, SV, NL, DE, EN