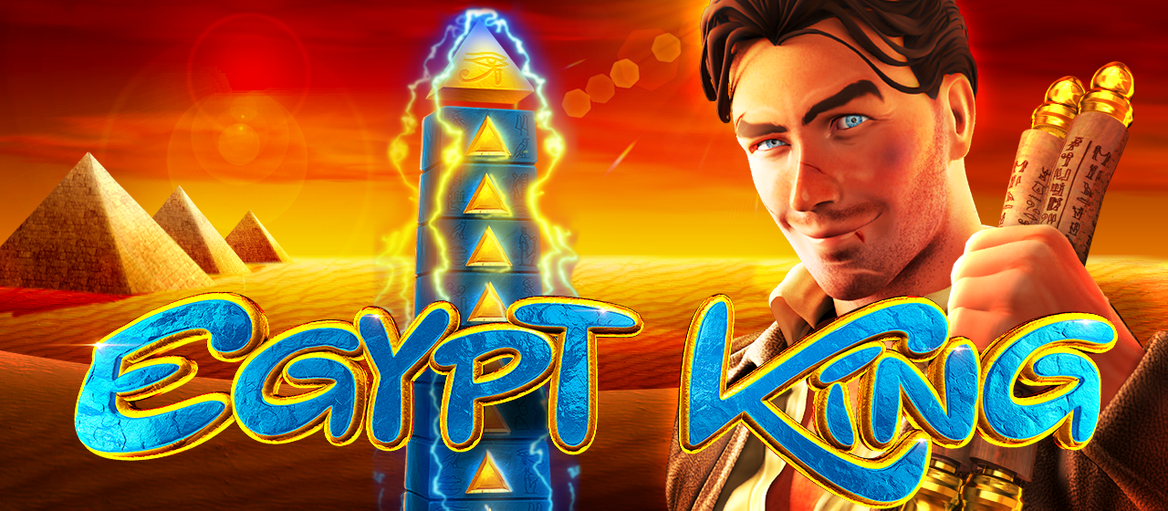 Egypt King™
Many roads lead to Pharaoh's treasure.
You have discovered the mighty obelisks and awakened them from their 3,000-year sleep. They now help you with their magical energy to the treasures of the Pharaoh. Keep at it and success is guaranteed.
Three gold eyes will help you find the Pharaoh's treasures.
Three gold eyes start the feature game. Two gold eyes are collected on the obelisk. Full obelisks also start the Feature Game.
Play
Game description
Egypt King™ is a 5-reel, 3-row video slot with Wilds, Scatters and Free Spins and 5 fixed paylines. Winning combinations pay from the left. 3 or more scatters start 10 free spins.
2 scatters increase the obelisk by 1 level. At 10 levels, 10 free spins start.
A lucky symbol is selected at the beginning. Any symbol can be a lucky symbol except scatter. During the free spins, the lucky symbol spreads over the whole reel.
The top prize is a full-screen adventurer.
Books + Feature Selection
3 or more scatters start the feature and the lucky symbol selection
Winning strategy
Try to get into the free spins as quickly as possible in the base game. You need 3 scatters (gold eyes) to get into the books feature. Try to tap the adventurer or another high symbol in the symbol selection at the beginning of the feature. This symbol spreads across the reels.
Secret tip: there is another way to get the free spins. You just need to activate all the levels of the obelisk. Each round you win 2 scatters will increase the obelisk by 1 level. Stay tuned, after only 10 levels, the free spins begin.
.
Did you know that the accumulated levels of the obelisk are not reset if you were in the free spins with 3 scatter before?
.
FAQ
Are there free spins?
Egypt King™ also offers free spins. 3 or more scatters or the full obelisks trigger 10 free spins, where lots of exciting features await.
Are there Big Wins?
This is definitely possible. Make sure you get the best possible free spins result with high stakes.
Play
Specification
Payline type
left to right
Specs
85.00%, 90.00%, 92.22%, 93.25%, 94.40%, 95.46%, 97.70%
Supported platforms
Mobile, Desktop
Recommended browsers
Chrome, Firefox, Edge, Explorer, Safari, Opera
Supported OS
Android, iOS, Linux, macOS, Windows
Languages
UZ, LT, EL, FI, NO, JA, PT, ES, UK, FR, RO, RU, PL, TR, SV, NL, DE, EN